"Oh how I LOVE my Rocks Mai Tais"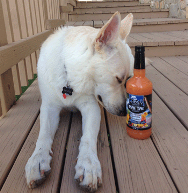 Hans L
Spicewood, TX
(Super fan & Mascot)
---

"Picked up two bottles yesterday. Ready for more!!!!" - Pamela M - Pflugerville, TX
---
"WOW, your mix is AMAZING with hard cider and a twist of lime! Tastes like that shower punch with sherbet!!" - Lisa S - Hye TX
---

"Enjoying a delcious frozen Rocks Mai Tai
by the fire" - Kim R - Spicewood, TX
---
"Best Mai Tai's EVER. Thanks Dawn and Steve" - Michelle N - Boise, ID
---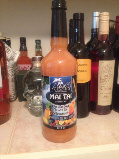 Whenever I have jury duty, I find it goes by faster if I
mix a little of my favorite alcohol with Rocks Mai Tai
mix and ice...On my third bottle btw" - Joe J - Lakeway, TX
---
"..but what really rocks is Rocks Mai Tai Mix - love that stuff, so glad they carry it at Twin Liquors...ha" - Anja L - Lakeway, TX

---

"AWESOME! Tried it with Myer's Dark Rum...
perfect Mai Tai" - Jean H - Lakeway, TX
---
"We are headed to Spain today and kicked off the day with a Rocks mimosa. It's delicious!! Love it!" - Nancy S - Westlake, TX

---
"I love your product. So too my wife and daughters. My youngest, a Junior at Univ Michigan wants distribution rights in Ann Arbor :)" - Matt G - Austin, TX
---

"Got my delicious bottles of Mai Tai Mix today!
Thanks so much Dawn & Steve. My daughter Allie just tried one minus the rum. Yummmmmmmm" - Julie D - Boise, ID
---
"My husband Scott and I are in California this week and I have been craving Rock's Mai-tais the whole time! Better than anything we've found here" - Heather H - Austin, TX

---
"I read about your product and it sounded absolutely delicious and I had to try it. And now I am hooked! Will definitely be taking a few of the 4-packs along on my annual girls beach trip later this summer - Rachelle M - Elgin, TX

---
"I am in love with your product! Thanks for making it!" - Sharon G - Las Vegas, NV

---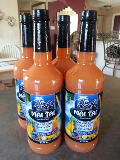 "Let the party begin. LOVE this stuff" - Deanna K - Washington, MI
---
"Been meaning to go to Twin to stock up for our annual July 4th at Lake of the Ozarks. I've been known to "Mai Tai" a few people! Have to keep up the tradition - now with the best Mai Tai mix ever! - Jean H - Lakeway, TX
---
"With the completion of our pool side bar this spring we will definitely need to carry the ROCKS MAI TAIS for the perfect pool side mix!!" - Laura F - McHenry, IL

---
"Rocks Mai Tais are taking Austin by tropical STORM! Congrats Dawn and Steve!" - George B - Austin, TX
---
"We visited (Rocks Mai Tai) paradise last night with Chuck & Tracey! Love it!" - Cathy O - Springhill, FL
---
"Congratulations! How exciting for you. Your drink is amazing!" - Sheryl B - Lakeway, TX

---
"Loved the article! Great job guys on a great product." - Paul H - Round Rock, TX
---
"No need to to go to Tahiti or Hawaii, when I can get the best tasting one right here! Love this mix!" - James C - Denver, CO
---
"Rocks Mai Tais certainly does ROCK!!" - Kim R - Spicewood, TX

---
"What a great success story! Kudos to you guys! May the Force be with you!" - Max R - Hudson Bend, TX
---
"Like? Where's the 'Love' button?!" - Sam H - Steiner Ranch, TX