Rocks Premium Mixers
Welcome! If you're in the mood for a tasty concoction of tropical fruit juices…you are in the right place. Every cocktail mix is made with TLC from delicious fruit juices, natural flavors and pure cane sugar.

Classic Margarita - Just bring together Rocks Classic Margarita mix, your favorite tequila, a salt rimmed glass and you'll have a mouthwatering cocktail with bright citrus notes and a fabulous finish…just what you'd expect from the perfect Margarita. One sip of this amazing cocktail and you're on a sensory getaway to "Margaritaville." Jimmy Buffett would be proud!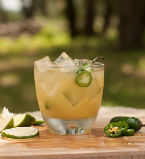 Jalapeño Lime - Our Jalapeño Lime mixer is the perfect combination of sweet and heat! What makes this mixer SO incredible is that you can blend it with rum to make a killer Mojito, tequila to make a fiery Margarita and vodka to make a spicy Martini.

Mai Tai - Looking for an "out-of-this-world" Mai Tai mix? Ours is truly one of a kind. This blend of lush tropical fruit juices combined with the subtle hints of ripe cherry and sweet almond will send you on a sensory getaway to the Islands. You don't have to have your toes nestled in a white sandy beach or feel the cool ocean breeze on your face to enjoy this unforgettable cocktail.

Ultimate Mixer - Looking for something to mix with your favorite vodka, tequila, gin, bourbon, wine, champagne or beer? This perfect blend of sweet tropical juices and tangy citrus fruits complements almost any spirit, wine, champagne or beer. We call it the "Ultimate Cocktail Mixer." Our fans call it "the best mix EVER!"
Want to see what our "Rocks" fans are saying?
Cocktail On…!